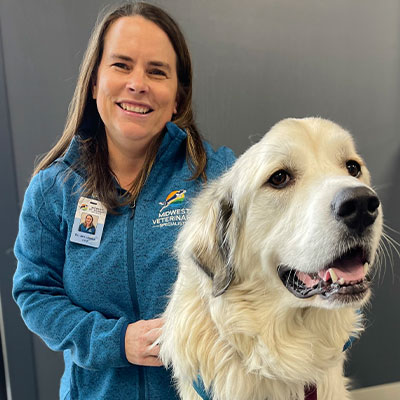 Jennifer Lorenz, DVM cVMA, cVSMT, CCRP
Jennifer Lorenz, DVM cVMA, cVSMT, CCRP
About Jennifer Lorenz
Dr. Lorenz (aka Dr. Jen) is a graduate of University of Wisconsin School of Veterinary Medicine. Since graduation, she has worked as an equine veterinarian, a mixed animal practitioner specializing in acupuncture and spinal manipulation, and now a specialized rehabilitation practitioner.
Dr. Jen first became certified in Veterinary Medical Acupuncture through Colorado's Medical Acupuncture for Veterinarians (now Cure Core) and then certified in Veterinary Spinal Manipulation through the Healing Oasis, here in Wisconsin. These certifications have led her to develop a special interest in sports medicine and rehabilitation for small and large animals. She became a Certified Canine Rehabilitation Practitioner through the University of Tennessee and has joined Midwest Veterinary Specialists as a veterinary rehabilitation practitioner. She is a lifelong student and hopes to continue learning and helping her patients feel their best so they can perform their best. In addition to rehab, she has a special interest in pain management and sports medicine.
Dr. Jen serves on the UW School of Veterinary Medicine Alumni Association Board as well as the veterinary representative on the board for the Upper Midwest Endurance and Competitive Rides Association. She is also a member of several veterinary organizations including AVMA, WMVA, AAEP, IVAPM (International Veterinary Academy of Pain Management), AARV (American Association of Rehabilitation Veterinarians).
When not at work, Dr. Jen enjoys time with her husband and the many animals they have on their small farm. They have started breeding sport horse ponies and look forward to foals in the spring. She rides her horses when she can and works as a veterinarian for endurance rides on the weekend during the summer. Dr. Jen and her husband also enjoy camping with their dogs, kayaking, and fishing.