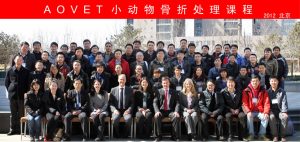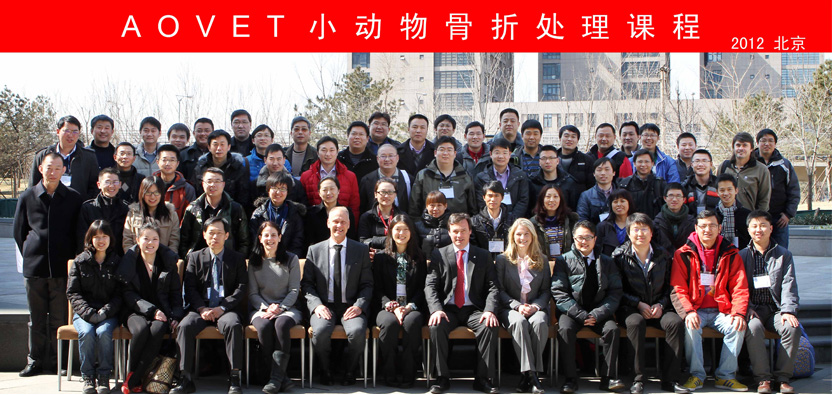 Dr. Bergh is an experienced and internationally recognized speaker and mentor, having produced over 200 publications, presentations, and book chapters. She regularly speaks and teaches other veterinarians at national and international conferences and is a Faculty Instructor and Course Chairperson with AOVET, an international non-profit veterinary educational organization.
She loves clinical practice where she can carefully listen to the needs of her clients and utilize the best available evidence and therapies to improve the comfort and function of her patients while building long-lasting relationships.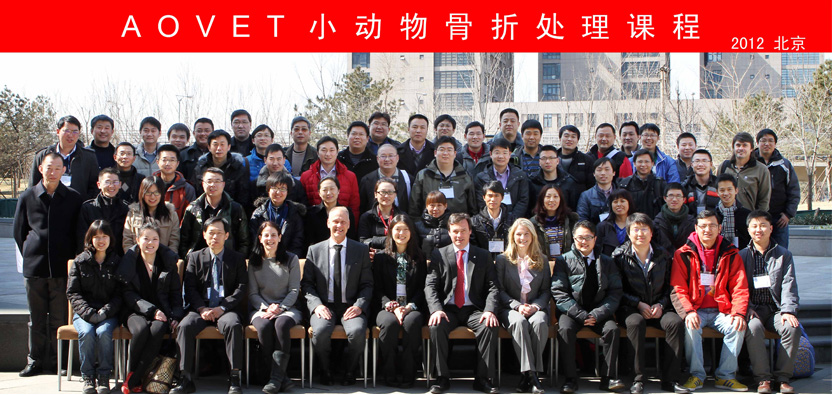 What is AOVET?
AOVET is a global network of experts in the field of veterinary orthopedic surgery of the who passionately advance the practice of veterinary surgery with the goal of improving patient outcomes through teaching, collaboration, and research.
Education and Certificates
DVM – University of Wisconsin (2003)
Masters of Science – The Ohio State University (2008)
Diplomate, American College of Veterinary Surgeons – small animal (2009)
Diplomate, American College of Veterinary Sports Medicine and Rehabilitation (2012)
Certified in Biomedtrix total hip, knee, and elbow replacement
American Veterinary Medical Association
American College of Veterinary Surgeons
American College of Veterinary Sports Medicine and Rehabilitation
AOVET – Ambassador level
Wisconsin Veterinary Medical Association
Veterinary Orthopedic Society
Bergh MS, Sullivan S, Ferrell C, et al. Systematic review of surgical treatments for cranial cruciate ligament disease. J Am Animal Hosp Assoc. 50(5):315-321, 2014. https://pubmed.ncbi.nlm.nih.gov/25028440/
Bergh MS, Budsberg SC. A systematic review of the literature describing the efficacy of surgical treatments for canine hip dysplasia (1948-2012). Vet Surg 43(5):501-506, 2014. https://pubmed.ncbi.nlm.nih.gov/24837650/
Eiermann JS, Kirkby-Shaw K, et al. Recommendations for rehabilitation after surgical treatment of cranial cruciate ligament disease in dogs: A 2017 survey of veterinary practitioners. Vet Surg. 2020 Jan;49(1):80-87. https://pubmed.ncbi.nlm.nih.gov/31390083/
Kieves NR*, Bergh MS, Zellner E, Wang C. Pilot study measuring the effects of bandaging and cold compression therapy following tibial plateau levelling osteotomy. J Small Anim Pract 2016;57(10):543-547. https://pubmed.ncbi.nlm.nih.gov/27467420/
Bergh MS, Peirone B. Complications of Tibial Plateau Leveling Osteotomy (TPLO) in dogs. Vet Comp Orthop Traumatol 25(5):349-358, 2012. https://pubmed.ncbi.nlm.nih.gov/22534675/
Bergh MS, Piras A, Samii VF, et al. Fractures in the regions of adaptive modeling and remodeling of the central tarsal bone in racing greyhounds, Am J Vet Res 73(3):375-380, 2012. https://pubmed.ncbi.nlm.nih.gov/22369529/
Thompson AM*, Bergh MS, Wells KL, Wang C. Tibial plateau leveling osteotomy implant removal: A retrospective analysis of 129 cases. Vet Comp Orthop Traumatol 24(6):450-456, 2011. https://pubmed.ncbi.nlm.nih.gov/21975493/
Bergh MS, Gilley RS, Shofer FS, and Kapatkin AS: Complications and radiographic findings following cemented total hip replacement: a retrospective evaluation of 97 dogs. Vet Comp Orthop Traumatol 19(3):172-9, 2006. https://pubmed.ncbi.nlm.nih.gov/16972000/
Bergh MS, Hildreth J. Passive range of motion in rehabilitation therapy. The Clinician's Brief http://www.cliniciansbrief.com/article/how-passive-range-motion-exercises March 2015.
Troy J*, Bergh MS. Development and efficacy assessment of a model designed to teach cranial cruciate ligament rupture diagnosis. J Vet Med Education 42(2):127-32, 2015.
Bergh MS, Muir P, Markel MD, and Manley PA: Femoral bone adaptation to stable long-term cemented total hip arthroplasty in dogs. Vet Surg 33:214-20, 2004. https://pubmed.ncbi.nlm.nih.gov/15104627/
Bergh MS, Muir P, Markel MD, and Manley PA: Femoral bone adaptation to unstable long-term cemented total hip arthroplasty in dogs. Vet Surg 33:238-45, 2004. https://pubmed.ncbi.nlm.nih.gov/15104630/
Jehn CA, Bergh MS, and Manley PA: Orthogonal view analysis for evaluating the femoral component position of total hip implants in dogs using postoperative radiographs. Vet Surg 32:134-141, 2003. https://pubmed.ncbi.nlm.nih.gov/12692758/
Bergh MS and Bdsberg SC: The coxib NSAIDs: Potential clinical and physiological importance in veterinary medicine. J Vet Intern Med 19:633-643, 2005. https://pubmed.ncbi.nlm.nih.gov/16231707/
Lascelles BDX, Roe SC, Smith E, Reynolds R, Markham J, Marcellin-Little D, Bergh MS, Budsberg SC.  Evaluation of a pressure walkway system for measurement of vertical limb forces in normal dogs. Am J Vet Res 67(2):277-82, 2006. https://pubmed.ncbi.nlm.nih.gov/16454633/
Budsberg SC, Bergh MS, Reynolds LR, Streppa HK. Evaluation of pentosoan polysulfate sodium in the postoperative recovery from cranial cruciate injury in dogs: A randomized, placebo-controlled clinical trial. Vet Surg 36(3):234-44, 2007. https://pubmed.ncbi.nlm.nih.gov/17461948/
Burns CG*, Bergh MS, McLoughlin MA. Surgical and non-surgical management of peritoneopericardial diaphragmatic hernia: A retrospective evaluation of 28 dogs and 30 cats (1999-2008). J Am Vet Med Assoc. 242(5):643-650, 2013. https://pubmed.ncbi.nlm.nih.gov/23402411/
Troy J*, Bergh MS. Development and efficacy assessment of a model designed to teach cranial cruciate ligament rupture diagnosis. J Vet Med Education 42(2):127-32, 2015. https://pubmed.ncbi.nlm.nih.gov/25862403/
Bergh MS, Rajala-Schultz P, Johnson KA. Risk factors for tibial tuberosity fracture following tibial plateau leveling osteotomy in dogs. Vet Surg 37:374-382, 2008.
https://pubmed.ncbi.nlm.nih.gov/18564262/
Bergh MS, Sullivan S, Ferrell C, et al. Systematic review of surgical treatments for cranial cruciate ligament disease. J Am Animal Hosp Assoc. 50(5):315-321, 2014. visit website
Bergh MS, Budsberg SC. A systematic review of the literature describing the efficacy of surgical treatments for canine hip dysplasia (1948-2012). Vet Surg 43(5):501-506, 2014. visit website
Eiermann JS, Kirkby-Shaw K, et al. Recommendations for rehabilitation after surgical treatment of cranial cruciate ligament disease in dogs: A 2017 survey of veterinary practitioners. Vet Surg. 2020 Jan;49(1):80-87. visit website
Kieves NR*, Bergh MS, Zellner E, Wang C. Pilot study measuring the effects of bandaging and cold compression therapy following tibial plateau levelling osteotomy. J Small Anim Pract 2016;57(10):543-547. visit website
Bergh MS, Peirone B. Complications of Tibial Plateau Leveling Osteotomy (TPLO) in dogs. Vet Comp Orthop Traumatol 25(5):349-358, 2012. visit website
Bergh MS, Piras A, Samii VF, et al. Fractures in the regions of adaptive modeling and remodeling of the central tarsal bone in racing greyhounds, Am J Vet Res 73(3):375-380, 2012. visit website
Thompson AM*, Bergh MS, Wells KL, Wang C. Tibial plateau leveling osteotomy implant removal: A retrospective analysis of 129 cases. Vet Comp Orthop Traumatol 24(6):450-456, 2011. visit website
Bergh MS, Gilley RS, Shofer FS, and Kapatkin AS: Complications and radiographic findings following cemented total hip replacement: a retrospective evaluation of 97 dogs. Vet Comp Orthop Traumatol 19(3):172-9, 2006. visit website
Bergh MS, Hildreth J. Passive range of motion in rehabilitation therapy. The Clinician's Brief visit website March 2015.
Troy J*, Bergh MS. Development and efficacy assessment of a model designed to teach cranial cruciate ligament rupture diagnosis. J Vet Med Education 42(2):127-32, 2015.
Bergh MS, Muir P, Markel MD, and Manley PA: Femoral bone adaptation to stable long-term cemented total hip arthroplasty in dogs. Vet Surg 33:214-20, 2004. visit website
Bergh MS, Muir P, Markel MD, and Manley PA: Femoral bone adaptation to unstable long-term cemented total hip arthroplasty in dogs. Vet Surg 33:238-45, 2004. visit website
Jehn CA, Bergh MS, and Manley PA: Orthogonal view analysis for evaluating the femoral component position of total hip implants in dogs using postoperative radiographs. Vet Surg 32:134-141, 2003. visit website
Bergh MS and Bdsberg SC: The coxib NSAIDs: Potential clinical and physiological importance in veterinary medicine. J Vet Intern Med 19:633-643, 2005. visit website
Lascelles BDX, Roe SC, Smith E, Reynolds R, Markham J, Marcellin-Little D, Bergh MS, Budsberg SC.  Evaluation of a pressure walkway system for measurement of vertical limb forces in normal dogs. Am J Vet Res 67(2):277-82, 2006. visit website
Budsberg SC, Bergh MS, Reynolds LR, Streppa HK. Evaluation of pentosoan polysulfate sodium in the postoperative recovery from cranial cruciate injury in dogs: A randomized, placebo-controlled clinical trial. Vet Surg 36(3):234-44, 2007. visit website
Burns CG*, Bergh MS, McLoughlin MA. Surgical and non-surgical management of peritoneopericardial diaphragmatic hernia: A retrospective evaluation of 28 dogs and 30 cats (1999-2008). J Am Vet Med Assoc. 242(5):643-650, 2013. visit website
Troy J*, Bergh MS. Development and efficacy assessment of a model designed to teach cranial cruciate ligament rupture diagnosis. J Vet Med Education 42(2):127-32, 2015. visit website
Bergh MS, Rajala-Schultz P, Johnson KA. Risk factors for tibial tuberosity fracture following tibial plateau leveling osteotomy in dogs. Vet Surg 37:374-382, 2008.
visit website